General Technical Description
The final drives are axle mounted and were manufactured by J Stone & Co. of Deptford under licence from Maybach. The final drives for each bogie comprise the following assemblies:
a) Three-piece gearcase
b) Input shaft with gear and bearings
c) Pinion shaft with gear and bearings
d) Oil Pump unit
The input shaft radial loads are taken on two roller bearings, the axial (thrust) loads are taken with a deep grooved ball bearing. The driving gear is helical cut and secured to the input shaft flange with tapered pins.
The driven gear is an interference fit on the pinion shaft, the shaft radial loads are taken on two roller bearings and two tapered roller bearing, the latter also accommodate the axial loads generated by the bevel gears.
The pinion and axle gears are of spiral bevel form, the axle driving gear is secured to the axle driving flange with tapered pins. The final drive has an overall ratio of 3.515:1 input shaft to axle. The axle carries the oil pump driving gear, the latter providing an oil spray to the gears and bearings.
The oil pump delivers oil in both directions of rotation by means of automatic changeover valves. The driving flanges are a press fit onto the input shaft tapers. The torque reaction from the drive is taken by the torque reaction arms and transferred to the bogie frame via a resilient anchorage.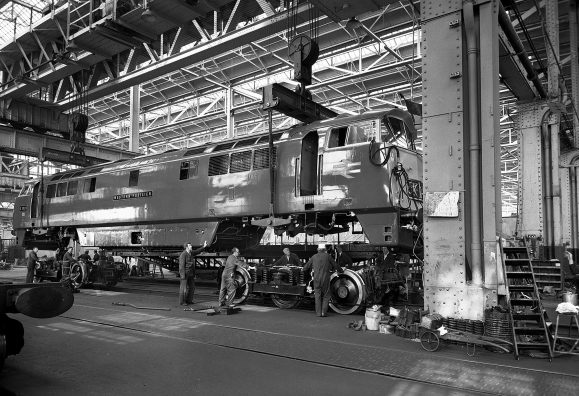 What work needs to be done?
A full overhaul would require:
Each of the three final drive units will need to be stripped and removed from the axles, before the wheelsets, are sent away for re-tyre. 
An overhaul to ensure that the gears and bearings are in a serviceable condition.
Each final drive contains an oil pump, which will require to be overhauled, flow tested and the operation of the changeover valves checked.
What's likely to be in need of repair?
The pinion end roller bearing will need replacing; overhauls carried out by the DTG have indicated that the remaining bearings are likely to be in a good condition.