General Technical Description
The D1000 type bogie is a three-axle design developed by Swindon Design Office from the bogie fitted to the Kraus-Maffei designed ML3000 locomotive trialled on the German Federal Railways (Deutsche Bundesbahn).
A number of design changes were required to be made for the D1000 design to fit within the UK Loading gauge, further design changes were required after the Locomotives were introduced following the rapid deterioration of the ride quality of the D1000 locomotives at relatively low mileages.
The secondary suspension takes the weight of the body on the buckles of a pair of laminated springs (the body support springs) via rubber pads.
The ends of the body support springs transmit the weight to the bogie frame via swing links and four pairs of coil springs. The swing links allow lateral and rotational movement between the bogie frame and body.
Traction and braking forces in the original design were taken by K-M patented linkage which constrained the bogie to rotate (in plan view) around an imaginary pivot point.
Following the investigation into the poor ride the linkages were removed and manganese steel faced bogie thrust pads modified together with the body mounted thrust brackets to allow lateral movement between the body and bogie, this being controlled by hydraulic dampers and resilient stops.
The primary suspension comprises laminated springs supporting the bogie frame at each of the six axle-boxes, with the leading and centre axles being compensated to equalise the weight between these two axles.
The leading and trailing wheelsets have radial arms to transmit the traction and braking loads, and to steer the bogie frame, the axle-boxes on the centre wheelset are fitted with resilient horn guides allowing some lateral 'float' of the wheelset.
All three axles are coupled together via the final drives, cardan shafts and intermediate gear, thus the input torque applied to the driving flange of the intermediate gear is distributed to all three driving axles.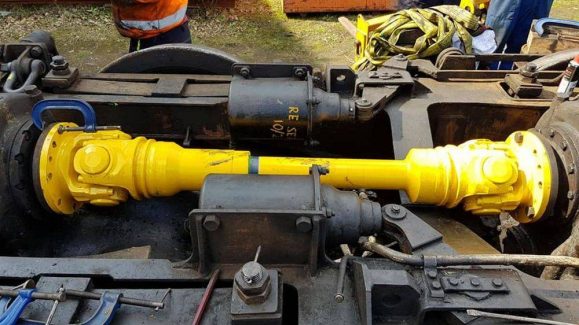 What work needs to be done?
A full overhaul would require a complete strip-down and re-build of all components including:
All cardan shafts
Intermediate gearbox
Wheelsets, axle bearings and final drive assembly
Final drive torque reaction arms and centres
Thrust brackets, hydraulic damper assemblies and bogie side control stops
Axle springs, secondary springs and spring gear
Brake gear (rigging) and brake cylinders
Bogie mounted Brake pipes
Each bogie frame to be inspected for cracks, and repairs carried out as required.
Bogie frame to be repainted, bogie re-built.
AWS receiver to be overhauled or replaced.
What's likely to be in need of repair?
Cracks within the bogie frame are likely in need of repair.
Attention to torque reaction arms
Replacement of thrust pads
Replacement of cardan shafts
Brake gear and cylinders to be refurbished