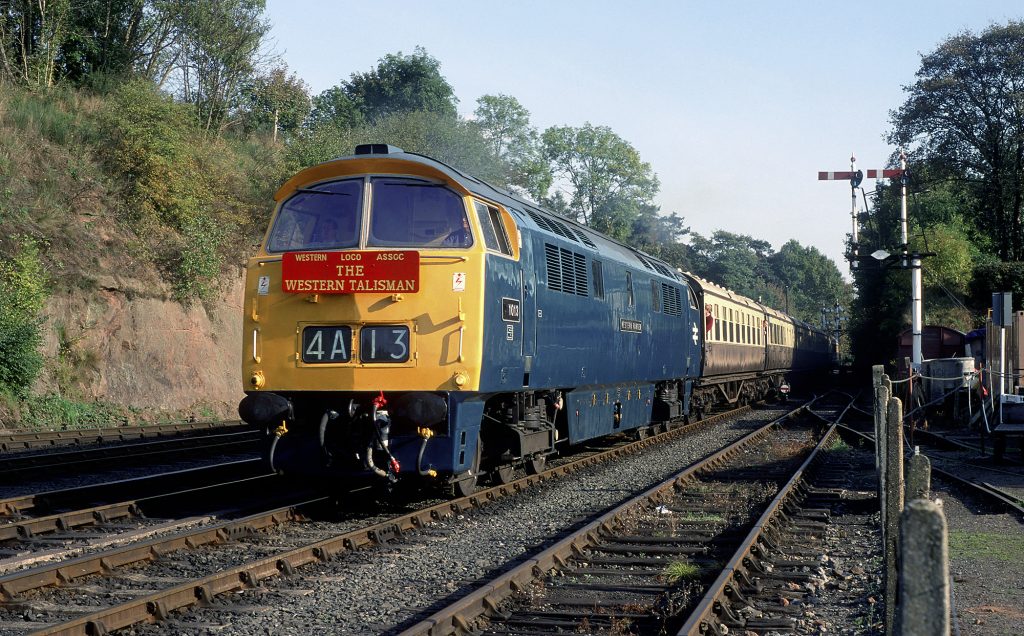 D1013 Western Ranger
D1013 Western Ranger is a Class 52 Diesel Hydraulic locomotive, built at Swindon Works in 1962 and was introduced into express passenger and heavy freight service on British Railways, Western Region in December 1962.
The locomotive clocked up 1.32 million miles before its withdrawal in February 1977, one of the last members of the class to work on BR.
The locomotive gained considerable fame for a spell of time as BR's preferred "rail-tour engine".
D1013 has since been based on the Severn Valley Railway following a brief spell on the Torbay & Dartmouth Railway back in 1977 and 1978.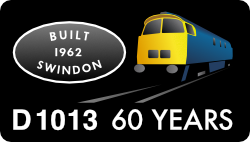 Prior to the current major overhaul, the locomotive's last major overhaul was with British Rail at Swindon, over 45 years ago!
Built in Swindon 13th December 1962, the locomotive will be 60 years old this year, in 2022!
The locomotive is owned by the Western Locomotive Association Ltd (WLA), a registered Charity and "Not for profit" organisation.
Major Overhaul Work
Over the last ten years, work has been carried out above the solebar level i.e. above the bogie wheelsets.
With so much work being carried out on the locomotive, consideration now has to be given to the bogies themselves, as it is a fact that the locomotive hasn't been lifted for over 45 years!
Experience gained by the WLA, has indicated that D1013 will need a full bogie overhaul if it is to gain a new lease of life for the next 150,000 miles over the next 40 years or so.
This work will include lifting the locomotive off its bogies for an initial assessment, prior to a complete strip-down, clean, overhaul, repair and assembly.
A major part of this work will require the wheelsets to be re-tyred as currently, they are virtually life-expired on minimum thickness safety levels.
How is the bogie overall going to be undertaken?
Whilst the WLA has some experience with bogie work, much of this will need to be outsourced with specialist engineering companies to make sure that work can comply with safety standards and meet the specifications that were in place back in British Rail.
A process of adopting appropriate paperwork is underway which will eventually lead up to a specification for the overhaul of both bogies.
This will include the strip down, shot blasting and repairs to the bogie frames, overhaul of the lateral dampers, new thrust pads, springs and overhaul of the final drives, whilst the wheel sets are re-tyred.
Once the specifications have been drawn up for each part of the overhaul, the work will be placed out to tender, to gain costings and a budget.
So how much will a bogie overhaul likely to cost?
Following discussions with specialist contractors we now know that a re-tyre will cost around £27k per bogie, totalling £54k. In addition, a full bogie overhaul has been estimated (post-Covid) in the region of £325k per bogie, so £650k in total, including contingencies.
How will the bogie project be funded?
Clearly, this project is a massive undertaking for any volunteer group and therefore, in addition to volunteer "hands-on" help, the WLA will need to seek help from private donations, sponsorship and will need to apply for funding with the Heritage Lottery Fund (HLF).
What will the benefits be?
The main focus of this specialist work is to prioritise the need to use suppliers that train and educate young apprentice engineers, especially those that have environmentally sustainable processes, materials and have their own clear commitments to the environment which are built into their strategies and policies.
A fully working locomotive with an extended operating life (by 40 years or so) that has had hundreds of hours of volunteer labour spent on it, able to return to work on the Severn Valley Railway (SVR), where the many thousands of people can enjoy the outstanding scenery throughout the 32-mile round trip length of the line, including the attractions of gala events and special events, plus the option of visiting other heritage railways and depot open days, throughout the UK.
Not only will the SVR benefit from a locomotive with a new lease of life but its operation will be fully sustainable in terms of its carbon footprint.
The WLA supports a carbon off-set plan by planting at least 62 trees per year within a Corporate Grove at Trees for Life, supporting wild forest revitalisation in the Highlands of Scotland.
Further details, including the option to plant trees can be seen by CLICKING HERE
Finally, not only will the locomotive be very much appreciated by the SVR travelling public and enthusiasts alike, but it will appeal to the WLA's growing number of female supporters, who regularly help with the maintenance and upkeep of the locomotives. In addition, the WLA has one female member fully qualified as part of the footplate crew!