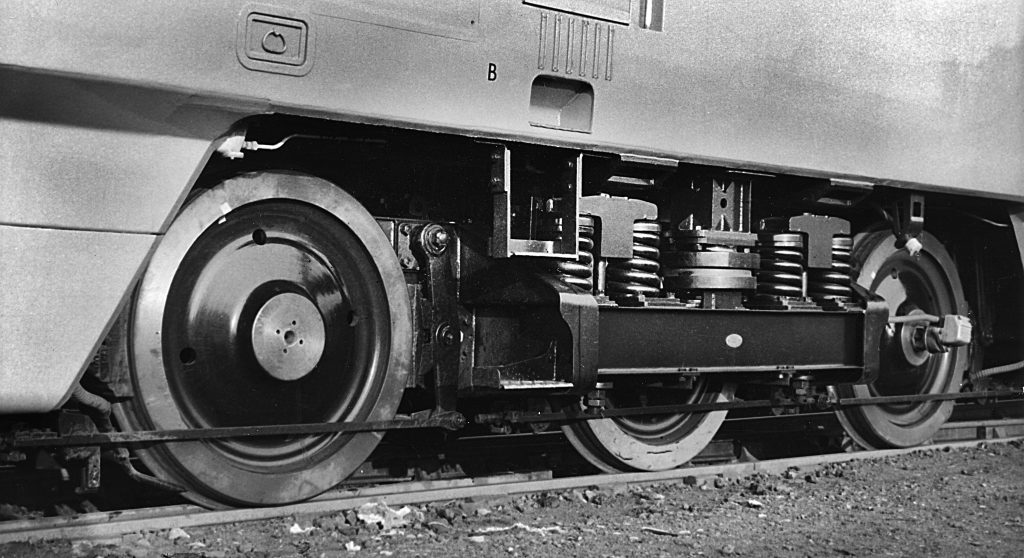 General Technical Description
All wheelsets for both bogies are fitted with inside bearing axle-boxes, the wheel centres are pressed or shrunk onto the axle seat with the tyres secured with Gibson rings.
The leading and trailing wheelsets are fitted with radial arms.
The radial arms are secured in the bogie frame by pivot pins, rubber bushes in the radial arms to take the traction and braking forces; and to allow vertical movement and steer the wheelset within the bogie frame.
The pivot pins also secure the torque reaction centre to the bogie.
The centre wheelset is fitted with axle-boxes guided by resilient horn guides, the horn guides permit vertical and lateral movement of the wheelset within the bogie frame.
The centre axle torque reaction centre is secured to the bogie frame by a bolted keep.
What work needs to be done?
A full overhaul would require:
Final drives to be removed from each axle.
Each axle to be checked to be true.
Each axle to be given an Ultrasonic Axle Test (UAT).
Wheelsets to be despatched the South Devon Railway for retyre.
Tyres and Gibson Rings to be removed.
New tyres and Gibson Rings to be fitted.
Wheelset to be overhauled in accordance with GB Mainline procedures
Final drives to be re-built on the axles.
Outer face of tyres to be polished.
Wheel/Tyre markers painted on inside of wheel (until such time outer wheel faces repainted).
Each axle to have new UAT exam upon completion.
What's likely to be in need of repair?
Unknown but thorough overhaul in line with rail industry practice.